How can retailers with brick-and-mortar stores stand up against digitally native companies that operate with cutting-edge technology? As an answer, more and more companies are promoting an "omni-channel strategy."
Omnichannel strategy is a strategy for providing consumers with a new purchasing experience by integrating all of a company's sales and distribution channels into one and centrally managing member information and inventory information. In Japan, this initiative is mainly carried out by major retailers, and recently its presence has been increasing among small and medium-sized retailers.
In this article, we will consider the relationship between retail stores and EC in an omnichannel strategy.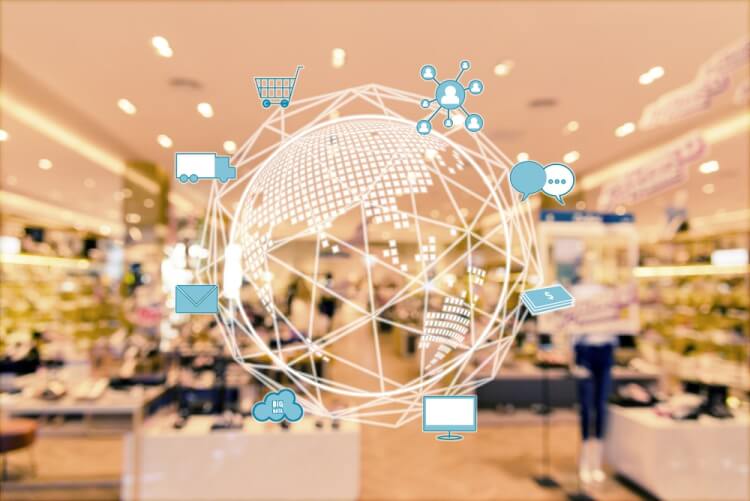 table of contents
What is consumer purchasing behavior in the digital age?
A strategy that takes into account new consumer purchasing behavior is essential.
How to seamlessly connect physical stores and e-commerce sites?
Let's work on an omnichannel strategy!
What is consumer purchasing behavior in the digital age?
From the late 1990s to the early 2000s, personal computers became widespread in households, and in the late 2000s the era of "one computer per person" arrived. Furthermore, demand for smartphones has increased explosively since the start of sales of the iPhone (January 2007), and now 75.1% of the population owns a smartphone.
In today's digital age, consumer purchasing behavior is undergoing major changes. For example, let's follow the actions of a consumer who wants a tablet device until he buys an iPad.
Consumers first try out the actual device at an Apple store or electronics retailer to increase their desire to purchase the iPad. It is rare that you would buy something on the spot. The next step is to collect information using the Internet. What's the difference between iPad Pro, iPad Air, and iPad Mini? Look at the specs of each model, read comments and review articles from other users, and carefully consider which model is right for you. If you're a consumer who regularly watches video content, you're likely to watch review videos on YouTube. Once that consideration is complete, the next step is to search "on the internet" for the product that is being sold at the lowest price. Many consumers do not visit physical stores at this point, and many purchase iPads from Apple Store Online, e-commerce sites operated by electronics retailers, or e-commerce malls such as Rakuten. The first criterion for this decision is price, followed by support, point-up campaigns, etc. Alternatively, consumers seeking Apple Store-specific services may visit physical stores.
What do you think? Compared to the era before smartphones and the Internet became widespread, consumer purchasing behavior has changed significantly. Unlike the days when information sources were TV commercials, newspaper advertisements, and flyers, anyone can now independently collect, organize, and utilize the information they want.
A strategy that takes into account new consumer purchasing behavior is essential.
It is important to build a retail system that aligns with consumer purchasing behavior as explained above. However, unfortunately, consumers do not consciously evaluate this. This is because such purchasing behavior is commonplace for consumers. In other words, this means that retailers that cannot respond to consumer expectations will naturally become unacceptable.
For example, the following retailers will need some kind of digital transformation in the future.
The product inventory on the EC site and the physical store is so different that it is impossible to check the actual product.

Inability to receive sufficient explanation about products from store staff

Store staff treat customers in a way that forces them to make decisions on the spot.

Unable to choose how to receive the product
These factors have a negative effect on consumers, who naturally tend not to choose that retailer. A possible cause is "competition between physical stores and e-commerce sites."
For retailers with at least two sales channels, physical stores and e-commerce sites, there are many cases where the physical stores and e-commerce sites compete for consumers. People have the wrong idea that if sales only come from e-commerce sites, physical stores will go bankrupt, or that because the head office is putting effort into e-commerce sites, it's okay to run physical stores.
From the point of view of the staff who run physical stores, it is only natural that they would want to increase sales at the store. However, these circumstances are irrelevant to consumers, and if we consider the company as a whole, there is not much difference between sales at physical stores and sales on e-commerce sites. Furthermore, since consumers only choose the sales channel that suits them, there are no strategies such as customer service that forces them to purchase at physical stores, or strategies that prevent physical stores and e-commerce sites from collaborating due to competition. You should reconsider.
How to seamlessly connect physical stores and e-commerce sites?
The significance of implementing an omnichannel strategy is to have multiple points of contact with today's consumer purchasing behavior in the process from product awareness to purchase, and to develop consistent marketing measures to reach more consumers. This means that it is easier for customers to choose our company. Therefore, competition between physical stores and e-commerce sites is of course prohibited. It can be said that only when the two parties work together seamlessly can we stand on the starting line of an omnichannel strategy.
Therefore, the first thing retailers should tackle is "reforming evaluation systems and awareness."
A physical store in an omnichannel strategy is more than just a showroom; it provides consumers with a high-quality experience, increases brand value, proposes the optimal purchasing method for each consumer, and maximizes the UX (customer experience). That's it. However, given the reality that sales are more likely to occur on e-commerce sites, most retailers do not have a system in place to accurately evaluate physical stores.
Even if the final sales channel chosen by the consumer was an e-commerce site, the deciding factor for purchase may have been the customer service provided by the staff at the physical store. In order to create a correct evaluation system, an increasing number of retailers are installing tablet terminals in physical stores to check inventory on e-commerce sites and purchase products. The system is such that sales from in-store tablets to purchases are credited to the actual store.
Another important thing is to change the mindset of store staff. It is natural to want sales to increase at your own store, but unreasonable customer service can be a negative factor for the entire company. For this reason, we will change the way you think about customer service by guiding you to our e-commerce site, and provide you with a place where you can demonstrate your strengths.
Let's work on an omnichannel strategy!
Of course , an omnichannel strategy requires system reforms, such as improving the supply chain and integrating inventory information between physical stores and e-commerce sites. However, the most important thing is to "change the mindset" and "build an organization" as a company. Building an optimal system is also essential. First, consider what an omnichannel strategy is for your company, referring to precedents implemented by other retailers. It is important to define this before proceeding.