Bluetooth is a technology that has become familiar to us due to the spread of smartphones and PCs. The main use is to connect and exchange data with other devices such as wireless headphones, audio equipment, wireless mice and keyboards.
To begin with, Bluetooth is a type of wireless communication standard. Data can be exchanged between compatible devices without a wired connection, and the effective range is said to be around 10 meters. In addition, since Bluetooth is a technology that is widespread all over the world as an international standard, it is convenient to be able to connect with any device that supports Bluetooth.
Now, the era has arrived where Bluetooth is used to realize IoT (Internet of Things). What can be achieved by combining Bluetooth and IoT, technologies that are familiar to us, and the latest sensor technology?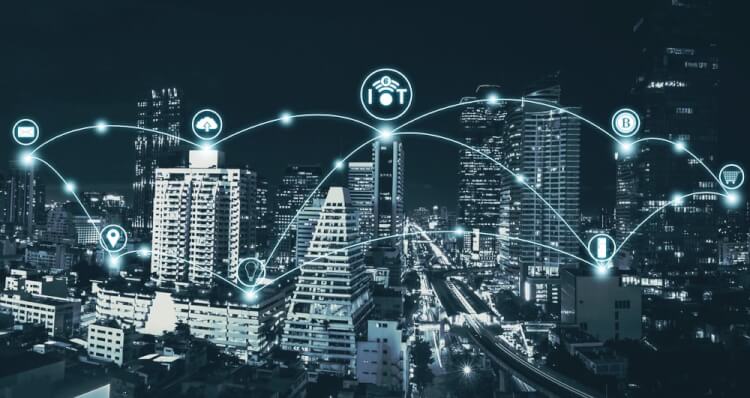 table of contents
What will change with the evolution of Bluetooth and its fusion with IoT?
Examples of Bluetooth x IoT
Expectations for Bluetooth and IoT in the Japanese manufacturing industry
Expect more with Bluetooth 5.1
What will change with the evolution of Bluetooth and its fusion with IoT?
Speaking of IoT, by equipping things that have not traditionally been connected to networks with sensors and communication technology for data collection, IoT device data can be aggregated via networks, and various additions can be made through applications such as analysis. These are technologies and initiatives that aim to create value.
For example, Rolls-Royce of the UK has succeeded in turning airline engines into a subscription business for the first time in the world by incorporating sensors into the airliner engines it manufactures and collecting and analyzing data such as output and rotational speed in real time. We are also entering a new consulting business that provides advice on matters such as the fuel efficiency of jet fuel. In other words, we created a new business model by converting passenger aircraft engines to IoT.
So, what exactly does it mean to use Bluetooth, a short-range wireless communication standard, for IoT?
This literally means collecting data from various IoT devices through Bluetooth, and this was made possible by a Bluetooth router developed by Cassia Netowrks, a venture company headquartered in Silicon Valley.
The Bluetooth router developed by the company can communicate over a distance of over 300 meters if the communication environment conditions are met, and can connect up to 40 IoT devices simultaneously. The basics of Bluetooth were short-distance communication of about 10 meters and one-to-one connection, so the distance is 30 times longer and the number of simultaneous connections is 40 times greater, significantly improving its performance. This was made possible by Cassia Netowrks' advanced antenna technology, signal processing technology, and noise reduction technology, and the feature is that existing Bluetooth devices can be connected to the network without making any changes, and communication between the two can be performed.
If the data collection from IoT devices using Bluetooth becomes full-scale, it will become easier than ever to implement IoT within a limited scope in medical facilities and factories, and the stable communication environment will enable rapid data analysis and feedback, and strategic We can expect it to be turned into a service through applications.
Examples of Bluetooth x IoT
In fact, there are already several examples of IoT devices that utilize Bluetooth. Let me introduce some examples here.
First, in the medical field, connected health systems are being built that collect numerical values ​​such as blood pressure, breathing rate, and heart rate from wearable devices worn by patients and care recipients, remotely manage them, and detect problems. . Furthermore, by installing more than 2,000 Bluetooth routers within a hospital, there are cases in which the location of devices moving between wards and hospital beds can be remotely and centrally monitored.
In a smart campus project promoted by a private university in China, thousands of Bluetooth routers are installed on campus to check the arrival and departure of approximately 4,000 students wearing wristband-type IoT devices, manage attendance, and collect biodata. Health management and behavioral tracking are conducted through monitoring.
Furthermore, ABB, a global power manufacturer based in Zurich, Switzerland, has installed IoT devices on various machines operating at customer sites and remotely monitors their conditions to detect signs of failure before they occur. We are proceeding with the demonstration of a predictive maintenance system to deal with this problem.
Expectations for Bluetooth and IoT in the Japanese manufacturing industry
When Prime Minister Abe and Minister of Economy, Trade and Industry Seko attended an information and communications trade fair held in Germany in March 2017, they advocated "Connected Industries" as a vision for Japan's manufacturing industry . This will lead to accelerated smartization of factories using IoT and AI for Japanese companies as well. Under these circumstances, expectations for IoT using Bluetooth are steadily increasing.
One of the major issues in the Japanese manufacturing industry is how to prevent heatstroke among workers during the summer. Summer in Japan can be described as the worst environment in which both temperature and humidity rise significantly, disrupting the human body's body temperature regulation system and inducing heatstroke. Although many manufacturing industries have taken measures such as installing point coolers and water coolers in particularly high-risk areas and securing rest areas, there are large differences in the speed, environment, and individual differences in how quickly heat strokes develop, so it is difficult to prevent them from occurring. This is a situation that is difficult to prevent.
Therefore, by equipping each worker with the aforementioned wristband-type IoT device, which collects and analyzes data such as heart rate, breathing rate, and body temperature, it is possible to detect signs of heatstroke in advance, and to detect the high risk of heatstroke. This will allow you to take immediate action, such as asking your workers to take a break.
It is effective not only in the healthcare field but also in improving manufacturing productivity. By introducing Bluetooth and IoT mechanisms to manage jigs and tools that are shared across multiple production lines and contraptions that are moved across production lines, the entire production line can be controlled by the system to reduce defective rates. This makes it possible to quickly analyze causes and identify solutions. If the maintenance team in the factory utilizes Bluetooth and IoT, it may be possible to create a predictive maintenance system in-house.
Expect more with Bluetooth 5.1
The latest Bluetooth standard, 5.1 version (Bluetooth 5.1), was announced in January 2019 and attracted a lot of attention. From Bluetooth 4 to Bluetooth 5, the communication speed has doubled, the communication distance has increased by 4 times, and the communication capacity has increased by 8 times, which has become a hot topic, but from Bluetooth 5 to Bluetooth 5.1, a "direction finding function" has been added . It attracted attention because of this.
The direction finding function tells you in which direction the paired Bluetooth device is located, and conventionally, even if the Bluetooth device could determine whether it was "close" or "far", it was not possible to tell in which direction it was located. What could not be confirmed has been significantly improved. With the release of Bluetooth 5.1, we can expect even more use of Bluetooth for IoT. Please take this opportunity to consider IoT devices that utilize Bluetooth.