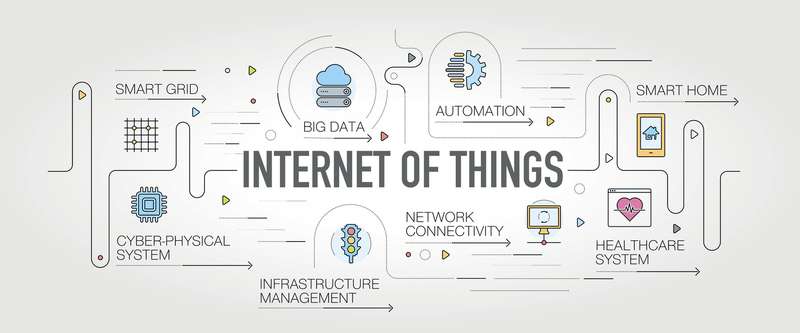 The term IoT (Internet of Things) is often used in daily life. However, it seems that there are not many people who understand the specific benefits of using IoT, such as what changes will be made by using IoT. This time, let's explore the effects brought about by the introduction of IoT and points to note while looking at examples of each field where IoT has been introduced.
Let's understand from familiar IoT
What can we do with the introduction of IoT? The easiest to understand is the use of Internet home appliances. One example of this is internet appliances that allow you to control your home air conditioner or turn lights on and off with your smartphone while away from home. Furthermore, self-driving technology is currently attracting attention. Let's take a quick look at this technique. The mechanism of IoT for autonomous driving is as follows.
First, the sensors installed in the car acquire various information such as position information, speed information, driving environment, and driving conditions.
The collected information is sent from the car to a server on the cloud through the network. A computer or artificial intelligence analyzes the transmitted data and conveys the results to the car. As a result, the driving environment and driving conditions are compared and automatically changed to maintain the driving conditions defined as safe at all times.
Japan is on the verge of becoming a super-aging society. Naturally, drivers are also aging. On the other hand, some people want to continue driving safely even in old age. The number of people who need safe driving conditions will increase in the future. At the "Future Investment Conference" held on October 29, 2019, the government recognized the need to popularize vehicles equipped with safe driving support functions such as automatic braking systems as one of the measures to prevent accidents caused by elderly drivers, which continue to increase. Such social needs will continue to increase in the future. Responding to these needs is one of how familiar IoT can be realized.
The use of IoT is beginning to spread not only in specific fields, but also in various industries, local governments, and medical and nursing care fields.
Let's take a look at the specific fields in which IoT is being introduced.
Here are some examples of how it is being used by local governments.
This is an example of IoT utilization in Yosano Town, Kyoto Prefecture. In Yosano Town, as the problem of successors for farmers became apparent, there was concern that the agricultural techniques that had been cultivated through experience would come to an end. Therefore, we started using IoT to create an environment that makes it easy for new farmers to devote themselves to agriculture and to establish a means to pass on technology. We introduced e-Kakashi
, an agricultural IoT solution provided by Softbank. Environmental data such as humidity, temperature, cumulative solar radiation, and soil moisture obtained from the e-Kakashi sensor are analyzed, linked to the timing of agricultural work performed by veteran farmers, and manualized for cultivation methods. realization. In addition, we used this data as information to back it up scientifically, so that it could be widely used as efficient and effective farm work data.
Ichigo Co., Ltd., a comprehensive real estate company, is working to improve property value in hotel renovations while promoting various initiatives to create new value in real estate. However, due to the increasing demand for hotels due to the increase in foreign visitors to Japan in recent years, the lack of staff has become a major issue. Therefore, we actively introduce IT services. For example, instead of cylinder keys, we changed to "Sumakagi", which allows remote management of guest room keys, and installed a hotel management system that links with the "Sumakagi" system via API. Furthermore, by linking with an automatic check-in machine, we have built a system that allows unattended check-in to check-out. In this way, the use of IoT has reduced the burden on employees and improved convenience for customers.
The use of IoT is also spreading in the medical and nursing fields, where labor shortages continue. For example, the Smart Bed System™️ provided by Paramount Bed uses sensors to collect the body movements of the person using the bed, and data such as sleep, wakefulness, breathing rate, and heart rate are sent to bedside terminals, staff stations, and other devices. It can be displayed on electronic medical records and shared with medical staff in real-time. You can also notify us of sudden changes.
In this way, by continuously collecting and accumulating physical data, it is possible to grasp the physical condition. This will allow us to detect changes more quickly and lead to treatment. All collected data is recorded, which also reduces the work of nursing staff. Since the data is shared with the concerned parties, we have achieved enhanced team medical care and a stable environment for continuous medical treatment.
Possibilities and Challenges of IoT
With IoT, all kinds of things are connected to the Internet, creating new business opportunities. There is a possibility of development as a business that connects not only in Japan but also overseas.
IoT will evolve further in the future, not only in home appliances, but also in various fields, such as local governments, medical and nursing care fields, and companies in various fields, and will correct the disparity between urban and rural areas. maybe you can. There is also the possibility of realizing the enhancement of regional medical care. In this way, the further spread of IoT will not only reduce the burden of work, but will also lead to liberation from constraints such as "location" and "time", and it will be possible to choose various ways of working and living.
On the other hand, with the spread of IoT, security measures will become important. As Internet home appliances and IoT become more familiar, the awareness of being connected to the Internet becomes weaker, and users tend to become less aware of security. Cyberattacks targeting IoT are also occurring.
From November 2018, the government enforced the " Law for Partial Revision of the Telecommunications Business Law and the National Institute of Information and Communications Technology Law". In February 2019, the Ministry of Internal Affairs and Communications (MIC), the National Institute of Information and Communications Technology (NICT), and multiple Internet providers collaborated to launch the " NOTICE " research project for IoT devices that could be exploited in cyberattacks.
As you can see from the existence of this project, strong security measures for devices and facilities are a major prerequisite for the spread of IoT.
IoT usage is expected to expand in daily life and business.
As IoT spreads, all kinds of things will be connected to information and communication systems such as the Internet, creating new business opportunities. According to a survey by IHS Markit, approximately 10 billion IoT devices were shipped in 2018, and this trend is expected to continue. According to a survey by IDC Japan, the size of the domestic IoT market is expected to reach nearly 12 trillion yen by 2022.
It is true that while the industry is expanding explosively, there are also major challenges. To respond to the shortage of workers due to the declining birthrate and aging population in society, or to utilize IoT as a tool to realize free work styles, users should not only enjoy convenience, but also security aspects. It is important to understand the issues and take countermeasures.