This article introduces an example of how Sporveien, a subway operating company owned by the city of Oslo, Norway, utilized 
IoT (Internet of Things) for equipment management.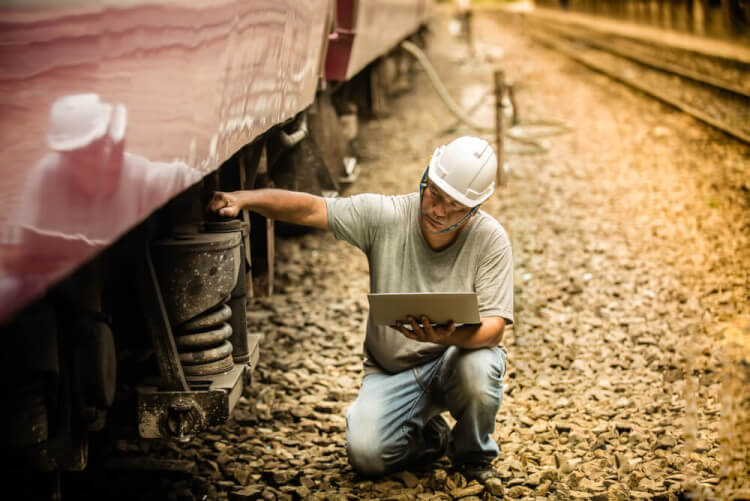 table of contents
Utilizing IoT for equipment management
Sporveien case study
What can IoT bring to railway companies?
Utilizing IoT for equipment management
IoT, which is being used in a wide range of fields, has created a foundation for collecting all kinds of information in real time using inexpensive sensors, making it possible to acquire an amount of information that was previously unimaginable. This benefit is being reaped in a variety of areas, with facility management being a representative area.
In other words, the biggest goal is to create "facilities that never stop" by installing sensors on equipment and collecting that information over the Internet, and by implementing IoT, optimizing maintenance plans and predicting failures and failures.
However, until now it has been possible to obtain information related to equipment from SCADA (Supervisory Control And Data Acquisition) and DC CS (Differential scanning calorimetry), and it has been possible to obtain equipment at a level such as issuing an alarm when a numerical value reaches a threshold. Facility management has been around for many years.
So, what has changed with IoT?
This is not only about streamlining equipment management, but also "optimizing corporate management through collaboration with business systems." Particularly in asset-intensive businesses, the utilization rate of facilities and equipment is directly linked to profits, so even a small amount of outage can have a major impact on business operations. By utilizing IoT, it is possible to detect abnormal conditions in equipment in advance, predict failures, and take prompt countermeasures to minimize equipment downtime and avoid losses.
Sporveien case study
Now, let's go back to the topic and introduce the example of a railway company.
Sporveien, the metro operator, has a fleet of 115 trains, of which 92 are actually in operation. Each train car has six doors, so during the train's operating hours, 552 doors open and close repeatedly every time the train stops at a station. If any one of these doors malfunctions, it will affect the entire operation schedule, so we must ensure that everything is in perfect condition at all times. Additionally, as vehicles age, maintenance costs also increase. This is the same requirement for railway companies in all countries, not just Norway.
Before introducing IoT, Sporveien had each vehicle equipped with a dedicated computer and various sensors, and the status of approximately 3,000 points was managed in real time. As many as 25 points of information are monitored for each door, and if the computer detects a problem at any point, it records the condition as a snapshot.
When it came to reporting some kind of malfunction or making periodic diagnosis, the mechanic would connect his portable computer to the vehicle's onboard computer via a network cable, read the information there, and analyze the malfunction. However, it is extremely difficult to handle the status of 3,000 points in such a maintenance process that relies on people, and information leaks and sharing delays often occur in communication between managers, maintenance teams, and mechanics. When it came to dealing with problems, a major problem was that the root causes were not investigated and the measures were taken only on an ad hoc basis. As a result, the same problems occurred over and over again, reducing vehicle utilization rates.
Therefore, Sporveien worked on " anomaly detection based on door opening/closing time " using IoT. Vehicle doors use rails with bearings, and as they wear out, they take longer to open and close. First, we use IoT to analyze that time in real time and detect abnormalities. Using this abnormality detection as a trigger, mechanics quickly carried out maintenance in an attempt to improve the vehicle's operating rate.
Each vehicle is equipped with Wi-Fi and has a unique ID. Snapshots of defects detected by sensors are uploaded to an internal database, and only those that meet specific conditions are sent to IFS Applications via Microsoft Azure (cloud platform). Event Hubs on Microsoft Azure records millions of events per second in near real-time, and Stream Analytics quickly analyzes that data.
What is important at this time is the conditions set in Stream Analytics. In order to carry out maintenance in a timely manner, it is necessary to set appropriate conditions. This is a condition such as "Issuing a "issuance." These instructions are sent to IFS Applications to automatically create work orders and maintenance teams to create maintenance schedules.
By creating this environment, abnormalities can be identified, maintenance can be carried out only where necessary, and the time vehicles are stopped can be reduced.
What can IoT bring to railway companies?
The Sporveien case mentioned above is one of the typical IoT usage examples. The use of IoT in equipment management is not limited to railway companies, but is being promoted in a wide range of fields such as manufacturing and construction. For this reason, railway companies are also expected to reduce costs by improving vehicle availability, reducing maintenance burdens, and optimizing maintenance schedules. However, what is expected even more than that is the "elimination of accidents through the use of IoT."
Trains carry a large number of passengers, so even the slightest accident can be life-threatening. Even in Japan, there are many accidents caused by vehicle defects. For example, on June 1, 2019, a 2000 series vehicle that was in commercial operation at Shin-Sugita Station on the Yokohama Seaside Line and Kanazawa Seaside Line, an unmanned vehicle, finished boarding and disembarking, closed the door, and at the same time went in the opposite direction. The train went out of control and collided with a bollard set up in the station premises 25 meters away, resulting in an accident in which six passengers sustained serious injuries, including broken bones, and 17 passengers were injured.
The cause of the accident was believed to be an error in the automatic driving system's electrical system or a vehicle error, and an investigation revealed that the cable that transmits information such as the direction of travel of the motor had been disconnected. One mistake could result in an accident that could cost the lives of the passengers.
In fact, accidents caused by vehicle troubles occur almost every year. There are some tragic accidents that claim the lives of crew members and passengers. IoT is expected to contribute not only to equipment management, but also to preventing such accidents by detecting vehicle trouble in advance, thereby ensuring vehicle safety. Improving safety will allow both crew and passengers to ride trains with greater peace of mind, and will also improve the reliability of the company.
What kind of IoT can be used in your company? Please take this opportunity to think about the possibilities of IoT while referring to various case studies.