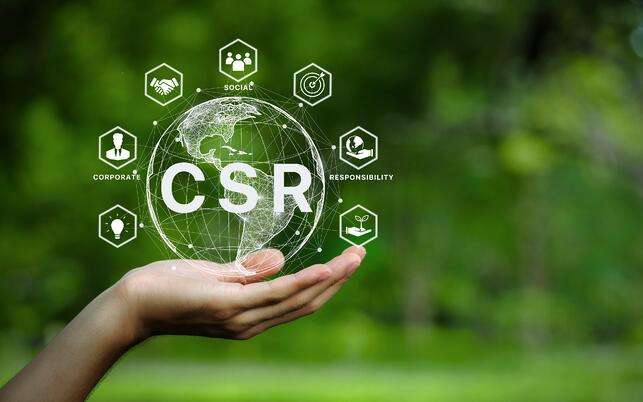 In today's corporate activities, instead of simply pursuing profits, CSR activities are required to fulfill various social responsibilities. In this article, I will explain the significance and background of CSR, and its relationship with sustainability and the SDGs. In addition, we will introduce the main activities that can be considered CSR, and the advantages and disadvantages of putting them into practice.
Table of contents
What is CSR
Importance of CSR
Examples of CSR activities
Benefits of CSR activities
Disadvantages of CSR activities
Summary
What is CSR
Corporations have traditionally been viewed as for-profit organizations that conduct business in the pursuit of profit. However, in recent years, the concept of CSR has permeated, and companies' stances and initiatives are beginning to be questioned.
CSR is an abbreviation for "Corporate Social Responsibility", which is translated as "Corporate Social Responsibility" in Japan. "Social responsibility" refers not only to the company's profit, but also to the company's relationships with stakeholders such as employees, customers, investors, and local communities, as well as the social factors surrounding the company. It shows about
Importance of CSR
What was the background to the birth of the concept of CSR?
Originally, in Europe and the United States, society and companies were considered to be closely related, and the idea that companies were responsible for the development of society was deeply rooted. It can be said that this is the basic concept of CSR. On the other hand, in Japan, pollution problems since the 1970s and a series of scandals such as food fraud by companies have raised social questions about corporate responsibility. Such problems came to be seen as the result of pursuing only profits, and the public began to look at them harshly. Therefore, each company has come to recognize the importance of social initiatives such as environmental issues and consumer health promotion to gain trust.
In addition, the term "sustainability" is often used in conjunction with CSR these days, but there is a clear difference between the two. CSR is a corporate perspective and refers to fulfilling social responsibility through good service. Sustainability, on the other hand, is a concept higher than CSR in the sense that it aims to create a sustainable society through efforts that take the economy and the environment into consideration.
Another term closely related to sustainability is SDGs. The concept was adopted at the United Nations Summit in September 2015, and various items of the "Sustainable Development Goals" to be achieved by 2030 are defined. It is hoped that this activity will facilitate the collection of funds, which in turn will lead to an increase in profits. By practicing these, you can give a good image in terms of securing human resources that are indispensable for business development, so it will be easier for human resources to gather and recruiting activities will be smooth and efficient.
In fact, according to the results of a survey conducted by the Tokyo Chamber of Commerce and Industry in 2005 on "Corporate Social Responsibility (CSR)," 98.3% of large companies and 79.7% of SMEs answered that the greatest benefit of CSR was "corporate image." improvement."
In addition, the fact that CSR is considered important has also been greatly related to the merits for companies. More on that later.
Examples of CSR activities
Even if you understand that CSR means corporate social responsibility, many people may not have a clear image of what it means. From here, we will introduce the specific activities that can be considered.
Engage with society as a whole
Taking a bird's-eye view of society as a whole, we can see that there are various issues that companies can address as CSR. For example, if the theme is "protection of the natural environment," it may be possible to develop eco-friendly products or establish a production system. Also. These include efforts to preserve local culture and philanthropic activities such as donations and blood donations.
Customer/employee relations
CSR activities also include those who influence the company's business activities and stakeholders, that is, efforts related to stakeholders. For example, to provide our customers with better quality products and services. It is also important to create employment opportunities for employees and develop human resources to strengthen the future management foundation.
Related to the company itself
Finally, the companies themselves also have challenges to address. In particular, it has a great impact on society, and if you ignore it, you can lose trust in one fell swoop, so be careful.
Specific examples include strengthening compliance, transparent information disclosure, information security, and strengthening corporate governance.
Benefits of CSR activities
CSR activities are not directly linked to profits, but the reason why they are emphasized is that they are beneficial to companies. From here, I will explain what kind of benefits there are.
Improve your company's image and reputation
CSR is a responsibility expected of companies by society. Companies that carry out CSR activities in response to this need to have a positive image from customers and investors, so they will be highly evaluated. As a result, the number of fans and repeaters of the company will increase, and the trust of investors will increase, leading to the stabilization of corporate activities. For this reason, it can be said that CSR activities are becoming more and more important.
Strengthen connections with stakeholders
There are various stakeholders around a company. Recognition that you are actively engaged in CSR activities will greatly increase the trust of business partners, especially customers. This is related to the previous item, but you can strengthen the support from investors, making it easier to raise funds. Being able to strengthen ties with various stakeholders is also effective in strengthening the management foundation.
Increase employee awareness and satisfaction
Looking at CSR activities from a long-term perspective, there are many human resource benefits. For example, you will have confidence, pride, and motivation that you are working for a company that contributes to society. When employee satisfaction increases, engagement (employees' trust in the company and willingness to contribute to the company) also increases. A stable business environment can be realized by increasing productivity and decreasing the turnover rate.
Disadvantages of CSR activities
As I explained, there are great merits for companies to carry out CSR activities, and that is why they are being emphasized, but what are the demerits? Here are some possible points.
There will be a cost
According to a survey conducted by the Tokyo Chamber of Commerce and Industry, which was introduced in the merit section, 81.1% of large companies and 73.8% of SMEs cited "increase in costs" as the biggest demerit when conducting CSR activities. The items to be addressed in CSR are not things that produce results in the short term. For this reason, if a company is short on funds, has just been established, or is performing poorly, it may not be possible to work on items that will directly lead to profit in the short term. In the long run, CSR activities have the advantage of being expected to improve business performance, but we must be aware that the hurdles can be high depending on the financial situation of the company.
Need manpower
To carry out CSR activities, it is necessary to secure human resources separate from the main business. In a survey conducted by the Tokyo Chamber of Commerce and Industry, the most common answer after the cost was "lack of human resources," regardless of company size. It can be said that it is difficult to promote CSR activities for companies that do not have sufficient internal human resources and cannot balance the number of employees between CSR activities and their main business.
Summary
Many companies are now emphasizing and working on CSR activities such as protecting the natural environment, creating jobs, and complying with compliance. You can expect to improve your corporate image and customer satisfaction, but there are also disadvantages such as increased costs and a shortage of human resources. Think about what is necessary for your company and how far you can go, and then put it into practice.