Omnichannel is a system that integrates all the sales and distribution channels a company has and manages member information and inventory information in an integrated manner to provide highly consistent services no matter which channel consumers choose. -channel) strategy. Approximately 10 years have passed since Macy's, a major US department store, declared itself an "omnichannel retailer" in 2011, and many retailers are still taking on omnichannel strategies, with some even making it the center of their business strategies. Masu. This article introduces an example of an omnichannel strategy in a retail company, mainly in the apparel industry. What efforts have been made and what has been successful? Let's check out some interesting examples.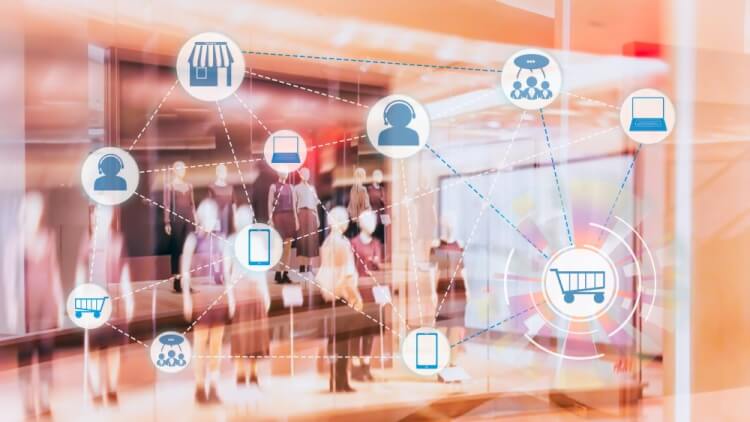 table of contents
The present and future of the apparel industry
How will an omnichannel strategy change apparel businesses?
Uniqlo's omnichannel strategy
United Arrows omnichannel strategy
Aim for an omnichannel strategy!
The present and future of the apparel industry
The apparel industry as a whole continues to face difficult conditions. According to research results released by Yano Research Institute in December 2019, the domestic apparel retail market in 2018 increased by 0.1% from the previous year to 9,223.9 billion yen, remaining flat for the second consecutive year. did. By sales channel, sales at department stores decreased by 4.0% from the previous year to 1,794.5 billion yen, at mass retailers, sales decreased by 3.7% to 802.7 billion yen, and at specialty stores, sales increased slightly by 1.0% to 5,067.4 billion yen. The only channel that has seen significant growth is the "specialty store channel and others (mail order, etc.)," ​​which increased by 4.2% from the previous year to 1,559.3 billion yen.
The apparel market has remained flat for the past few years, and it is thought that the market will shrink in the future due to the effects of the declining birthrate and aging population. However, the significant growth in sales channels such as e-commerce sites suggests that consumer purchasing behavior has completely shifted from physical to digital.
By the way, according to the "Results of market research on electronic commerce" compiled by the Ministry of Economy, Trade and Industry, the BtoC-EC (electronic commerce for consumers) market size is 18.0 trillion yen (8.96% increase from the previous year), and the EC rate * is 6.22%. On the other hand, when calculating the e-commerce rate from the above apparel market size data, it is 16.9%, which shows that the e-commerce rate is overwhelmingly high compared to all commercial transactions.
*Percentage of commercial transactions via EC in the entire market: "Total amount of EC transactions ÷ Total amount of market transactions × 100 (%)"
In its early days, the e-commerce business in the apparel industry was thought to be difficult to grow due to issues such as size issues and inability to pick up the actual product. However, recently, with the use of new digital technology and video content, shopping on e-commerce sites has become more convenient, allowing you to view products from various perspectives and imagine yourself using them. I am.
ZOZOTOWN, a major apparel e-commerce business, offers a body measurement suit called ZOZO Suit, which allows customers to find their perfect size even when shopping on their e-commerce site.
How will an omnichannel strategy change apparel businesses?
Although the market for e-commerce sites is growing steadily, the fact remains that the apparel industry as a whole is facing a tough battle. So how can an omnichannel strategy break through this current situation? Here we introduce the omnichannel strategy of a major apparel business.
Uniqlo's omnichannel strategy
Uniqlo is a Japanese apparel brand that has expanded its business overseas to major countries such as Asia, North America, and Europe. In Japan, we have opened physical stores all over the country, and as of August 2019, we have 2,196 stores. The cornerstone of UNIQLO's omnichannel strategy is the smartphone app "UNICLO IQ." This feature provides a variety of services such as an AI chatbot that provides inventory information and coordination consultations for physical stores.
Through this function, UNIQLO collects personal attribute data such as users' gender and age in conjunction with purchase data, and always conducts product development and inventory management based on the latest data. Furthermore, in addition to selling ready-made products, we also offer custom-made services for business suits and Y-shirts, and users can place orders simply by submitting their own measurements or data taken at a store. The finished product can be mailed to you or you can pick it up at a store, so it can be said to be a basic service for an omnichannel strategy.
However, providing services like Uniqlo requires sophisticated systems. By attaching RFID (radio electronic tags ) and performing contactless readable inventory management, data is reflected in the app in real time. Furthermore, in order to utilize the acquired data , it is necessary to develop a supply chain , and by merging with Daiwa House Industry and establishing a large multifunctional distribution base closer to the consumption area, UNIQLO will reduce delivery costs and save time. The process has been significantly shortened, allowing products to be sorted in a short time according to real-time sales conditions and delivered to each store.
United Arrows omnichannel strategy
United Arrows has more than 200 stores nationwide and annual sales of over 100 billion yen.Although sales at physical stores are on the decline, its e-commerce business is steadily growing. We are currently strengthening our omnichannel strategy with the goal of raising the EC rate from around 18% to 25-30%.
United Arrows had delegated EC site management and inventory management to the ZOZO Group, but from the fiscal year ending March 2020, the company has decided to move away from ZOZO and establish a new system in which it will control the EC business in-house. Ta. United Arrows and ZOZO have had a long-standing business relationship, but at the time of the announcement, it was widely reported that ZOZO was leaving.
By effectively utilizing external environmental data such as consumer movements and trend information, attribute information obtained from consumers through house cards, and various data such as purchase history at physical stores and the United Arrows online store, Our vision is to provide highly optimized services to each individual. In terms of infrastructure such as product procurement and logistics, we plan to create a system and business foundation that will allow consumers to purchase the products they want from the place they want at the time they want.
Aim for an omnichannel strategy!
What do you think? In the apparel industry, there are many companies that are trying to revive their business through omnichannel. Additionally, many companies have recently undergone digital transformation through the use of AI and IoT , and it is thought that such cutting-edge digital technologies will also provide a tailwind. Omnichannel strategies require some investment. However, there is a very high possibility of generating even more profits, so what does an omnichannel strategy mean for your company? What can you do? After considering these things, think about the sales process to provide a new UX (customer experience).